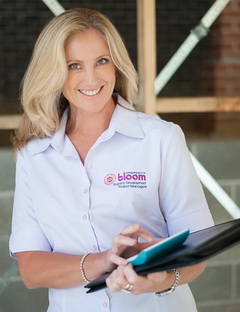 Property Bloom™ Aust Pty Limited is the result of my passion with property investment. My love of property started after purchasing our family home on Sydney's northern beaches and watching in awe as the value grew. We were experiencing the true value of capital growth. How could we make so much money by doing very little except waiting? Imagine if we added value by developing, the return would be much greater.

I also realised my husband and I would need a substantial income after we retired to be able to live the life we wanted to. Whilst we had some superannuation, we didn't have any other investments. We were not getting any younger and we soon had two more good reasons to plan for.

After setting up what is now a multi million dollar property investment portfolio in-between having our two gorgeous sons, I learnt that yields and capital growth were far greater when you renovate and develop. But Sydney was too expensive for this. My research took me to an affordable region close by with massive growth potential and lots of investment being made on infrastructure. I set up my property development project management business in 2001, becoming a specialist in the Hunter Region. The business grew fast as I found many time-poor investors looking to take the next step into development and create their own equity rather than wait for capital growth.

Property Bloom™ has been featured in several newspaper articles including the Sunday Telegraph, Sydney Morning Herald and Manly Daily and appeared on Foxtel Business program Your Money, Your Call. I write regularly for Your Investment Property and Australian Property magazines. I have a weekly column on http://www.propertyobserver.com.au/observers/jo-chivers/ and also http://www.yourmortgage.com.au/ and have presented at various seminars and work shops. I have also co-authored two books; Property Is A Girl's Best Friend and Property Millionaire.

I love what I do and I'd love to help you get started in property developing, so give me a call to discuss the projects I have available right now.

Yours passionately in property,
Joanna Chivers CEO