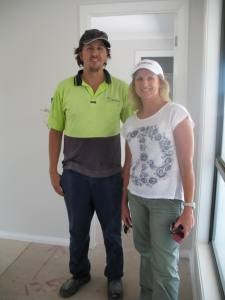 As a property developer, one of the most valuable relationships you will have is with your builder. Property Bloom has several we work with, but a very strong relationship with our main builder and through this we find our work gets priority, I have a negotiated discount structure in place for my clients and we often receive information on new land releases via our builder before land is registered. This lets us reserve the best dual occupancy or medium density sites.
Communication
It's very important you have open communication with your builder. Establish a good relationship with the site manager who you will work very closely with. Ensure you know what stage the building works are at and meet him on site regularly to check progress. The site manager should alert you to any issues that may arise during the building works, particularly those that may add costs. If this happens, work out a strategy to keep building works moving forward as there is nothing more frustrating than having to stop building works whilst you sort out an issue.
Different stages of Construction.
This will come with experience but it will help if you know what comes next as the building works progress. Generally there are five major stages of construction and once each stage is completed, the builder will issue an invoice for payment. You will pass this to your bank and sometimes they will send a valuer to check each stage before paying, but in most cases they will wait for the final invoice and send their valuer to check the building works have been completed before they release the final payment to the builder.
1. Slabs laid
2. Frame and trusses
3. Roof and brickwork
4. Internal linings and timber mould out
5. Final and practical completion
Once the final payment is received by the builder, there will also be Handover which involves the keys and warranties and other important documentation given to you.
It's important for you to understand what happens within each of these stages. It's no good deciding you want to change the position of the shower or bath if the plumber has already done his 'rough-in'. A rough-in is installation of the drain, waste, vent, and supply lines to proposed locations of each fixture. Also, if you are handling any items directly, such as the installation of air conditioning you may want to have the pipes positioned in the walls or 'roughed in' before the internal linings stage which is when insulation and plasterboard is installed as this will give a better finish.
Completion and Occupation Certificates
Earlier on in your project you should have sourced quotes for the finishing touches such as fencing and landscaping. Whilst I always have the builder include this in their tender, often we can save money for our clients by bringing in our own contractors. If you do this, keep close track of time so that you can have these works finished to coincide with Handover and the final inspection by the private certifier or council. There is nothing worse than having to hold up the occupation certificates, waiting for the landscaper or fencer to finish their job. Some builders may not allow outside contractors on site until after Handover. If this is the case, have your contractors primed to avoid hold ups.
Once all building works are completed to plan, you can apply for the Occupation Certificates. But well before this, you should show agents through so they can provide rental or sale appraisals. Whatever you decide to do, you want to engage an agent as early as possible so they can start marketing and find tenants or buyers quickly.
It is at this stage too that you should order your depreciation schedules which will ensure you maximise your tax return. Simply pass on the schedules to your accountant when preparing for your tax return. New buildings will maximise depreciation benefits and any professional consultant fees, such as a property development project manager like Property Bloom or architect fees can be taken up in the depreciation of your development and are claimable as a capital works allowance (division 43).
Our relationship with our builder means that Property Bloom projects get completed as quickly as possible and that we are all working together to achieve the same result…high quality, yet cost effective property developments.