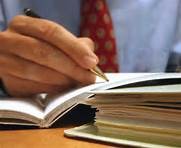 As developers, there are so many checks that we need to do, but to keep it simple, here's what I recon needs to be done first...
I've opened the Sales Contract and start to scan through it. I'm no solicitor that's for sure, so it's very important you have a solicitor ready to review the contract after you've had the first look. There is really no point sending a contract to your solicitor and starting to incur legal fees until after you've reviewed it and then had an offer accepted. However, if you are not confident or familiar with sales contracts, then definitely let your solicitor know what your development plans are and ask them to review it in this light.
1.

Front page
- A quick look at the front page of the contract confirms exactly what is for sale - this may sound strange – surely what is being advertised is what you'd be buying but this is not always the case. I've been offered land that the agent is advertising as two titles but on the contract only one lot is listed. This may mean the land has a subdivision approval however it is not yet registered so there could be costly work still required to complete the process. Perhaps the agent was told there were two titles by the vendor. Or, I've been offered two lots of land that have to be sold under the one contract. In this case it was because council would not allow a separate access to one of the lots – It's a long story so I won't go into it now. Sometimes the sales agent had been told one thing by the vendor but the reality is different. It's our job to sift through and check what's on offer.
2.

Deposited Plan and/or survey
- From the front page I usually skip straight to the deposited plan (DP) or if I'm lucky there may be a survey in the contract. In about 99% of the cases, there is no survey which is my number one bug bearer. If you are selling land people, please include a survey in the contract! It will assist purchasers to quickly evaluate the land. A survey reveals the width of the frontage, the depth of the block, what structures and trees/foliage are on it and that may need clearing (a cost to include in your budget). A survey will also identify any easements affecting the land. If you are very lucky, there may even be a contour survey. In new land developments, I can usually get hold of a contour plan. This shows me the fall on the land. The amount of fall will give me an indication of how much site works and retaining the development may require.
3.

Planning Certificate
- Next, I look for the Section 149 Planning Certificate as it's referred to in NSW. The first thing I check is the date it is issued, it's extremely important that it has been recently issued by council. An old 149 is not worth the paper it's printed on as council requirements/zonings can change. I just checked two certificates, one was issued the a year earlier and the second more recently. In the first certificate the land was in a bushfire zone, in the second certificate it wasn't. This zoning had obviously changed over time. I then check things like the land zoning – most important if you want to carry out medium density development but the land is zoned low density then the site is not suitable for you. For our granny flat developments, we make sure that complying development may be carried out (so we can have our approval received within ten days), I check if the land is in a proclaimed mine subsidence district (this is important as there are many under mined areas in the Hunter Region of NSW however, it still may not rule out a development site for us as you can build on undermined land but further checks on building requirements are made with the Mine Subsistence Board) I check if the land is flood effected (we don't usually touch floor effected land as it's too expensive to build to the requirements), bushfire prone (this is ok but does add a little to the build costs) and any restrictions that may impact on my development plans.
4.

Section 88B Instrument
- I check to see if there is a Section 88B Instrument in the contract. This is usually only included in newly created subdivisions or land releases. A section 88B instrument is part of a deposited plan which upon registration:
•
creates easements, profit à prendre, restrictions on use of land, and positive covenants. [cl.35 Conveyancing (General) Regulation 2008]
•
releases easements and profits à prendre. [cl.36 Conveyancing (General) Regulation 2008]
I will check to see if there are restrictions to multi unit or dual occupancies on the land. I understand that council may still approve a development contrary to a Section 88B Instrument restriction such as dual occupancy. For instance, if the land zoning allows for dual occupancies under council's Local Environment Plan and Development Control Plan, then council may approve your DA. However be prepared for some retribution from the land developer or opposition from neighbours.
5.

Sewer diagram
- This can be the most important check. The water authority will issue a sewer diagram. I opened a contract for a house on a large block this week only to see it had no connection to the sewer. This may seem odd but it was an older property and was built before sewer was available to this location. To connect the property to the sewer may be very costly. The connection point can also indicate the fall of the land as the sewer connection will always be at the lowest point. Depending on your development plans, you may need to extend the sewer line a considerable way and this will impact on costs. Also, look out for sewer junctions and manholes which will add complication to a development site. I assessed a property that looked like an awesome development site; it had a good house facing one street on a large block with a second street frontage. There was room to build a duplex facing the other street. But after seeing the sewer diagram I just laughed, there were three sewer lines all connecting to one junction in the back yard. You couldn't build over that. Or even if you could, the amount of piering around the sewer lines required would add crazy costs to the project.
So that's my five main areas I look at in a sales contract, it only takes a few minutes but I can tell in a flash if the site is worth pursuing or not.