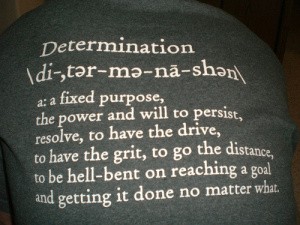 My story today is dedicated to my dear dad who sadly passed away recently. I wanted to share something he taught me as a child and young woman and that I have used throughout my life and in my business.
He believed that with persistence and determination you can accomplish anything. I learnt quickly how to use determination to achieve what I wanted.
Dad was an entrepreneur. Not in the jet setting sense of the word but he was a hard working, jack of all trades. He was always looking for opportunities and was more than happy to take a few calculated risks; he was determined to do well.
Dad immigrated to Australia from Holland after World War II. He served time in the Dutch Marines. But before he signed up, and during WWII he was captured by the enemy and taken by train to work in Germany. He was only a teenager but he escaped by jumping off the train in France and walking all the way back to Holland. It took him weeks and he lived on next to nothing. His determination carried him.
In Australia he was most industrious and very independent; he didn't want to rely on anything but himself to make a new life. He arrived in Adelaide and worked in the fire brigade. He rode a motor bike across the Nullarbor Plains on the dusty, rough unsealed road it was back then. He worked as a share farmer picking apples and pears in Batlow, one of NSWs major fruit producing towns.
Then he met mum. After that he started a milk run in Sydney's notorious Kings Cross, he used to give the working girls a lift home so I was told!
His next business saw him working on the F3 Freeway when it was under construction, breaking through the massive rock walls with his excavator, I remember playing on what we used to call the 'digger' as a kid. Finally, he started a tyre business on the northern beaches of Sydney which he ran for many years before retiring.
Dad had a subscription to a business magazine called BRW which I used to read from cover to cover after he'd finished with it, I would have been about 16. Whilst he was a man of few words, one thing he liked to talk about was money. When I got a new job the first thing he asked was 'how much are they paying you?' My sister had a delicatessen business and she always copped, 'so, how much did you take today?' I think this really helped focus us on making money.
There was certainly a big influence from dad to work hard and not bludge. He had a colourful way of talking about those who he thought were not pulling their weight. So that is exactly what us kids did…work hard. We all had various part time jobs while still at school. My brother went on to study medicine and is a highly regarded Specialist in his field; my sister still owns her successful delicatessen business and my younger brother scaled great heights within the NSW Police Force. At the same time, we've all raised families and invested in property.
When I stated investing in property it made dad proud. He'd done well from building his own home. Paying just $12,000 for a big block of land and only another $50,000 or so to build their house years ago, they made a pretty penny when they sold it.
Whenever I saw dad in the last few years he'd say, 'well you've done well Joey'. He loved to hear about the properties I was buying and the growth of my business.
Now that I look back over the past 12 years of so, it was hard to start a new business and build it at the same time as raising kids. It was hard to hold onto property when it would have been easier to sell. But now I realise it was my determination in not failing that saw me through and we are now reaping the rewards. I was determined to do well and make my dad proud.
Thanks dad for giving this to me.
'Dick' Marius van der Griend
1923 – 2013