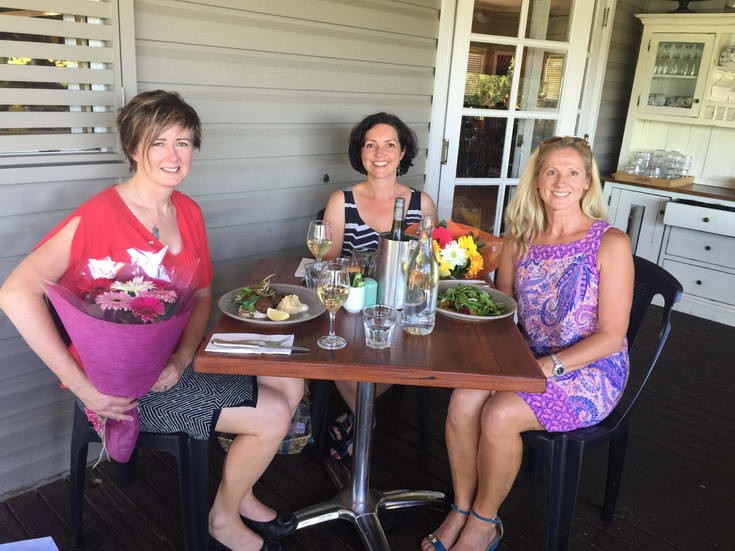 The ladies were not new to property, they both own their own homes and at times an investment property or two but as corporate business women were understandably time poor. Their goal was to build their property portfolio and share the experience of their first development. By working together, they would have each other to bounce off any worries and fears as well as celebrate the major milestones.

Their JV worked like a dream as they each brought a different skill set to the project with Karen being focussed on fine detail and Katie on big picture.
"The one thing we didn't want was the development project and JV to impact on our friendship" Katie explained.
Karen found that it was easier and less stressful going into the JV and her first development project than it was buying her first pre-built investment property. "Katie and I trusted each other implicitly and we trusted Property Bloom's experience" Karen said, "and that trust was proven true. Without exception Property Bloom took care of all the details, keeping everything on track".

Karen and Katie's project commenced in October 2014 and was completed within fourteen months.

The moment the land was secured Property Bloom began the DA approval process enabling the DA to be lodged before settlement on the land. There is a lot of work involved in getting a DA prepared - detailed survey, geotechnical report and engineering just to get the plans finalised before then organising the Statement of Environmental Effects, Basix report, Bushfire report and plans and external materials and colours to be approved by the land developer.

But that was the easy part. The bigger challenge was getting the actual approval from Council!

Now, admittedly, Christmas did fall whilst the DA was in council so that didn't help but we were surprised after so many weeks of processing and with the DA approval just within in our grasp (or so we thought) that the town planner then demanded a change to the entire roof design. This involved changes to the engineer's drainage plan as well so it was not a small change. We were furious with the lack of consistency as a previous and very similar DA sailed through council without this change request.

Once we had the DA approval in our hands we handed over the Construction Certificate approval to our private certifier who is markedly faster than council. There was no further hold ups and construction commenced in July 2015.

By Christmas 2015, less than 6 months later, the project was completed!

The villas came up beautifully and were quickly leased at a good rent with the ladies enjoying close to a 7% gross yield and very pleased with the equity created.
But that wasn't the end of it. The final, and biggest decision of all was……. how to divide the villas? Who would end up with which one?

The villas were almost identical in size but to keep them unique they had different floor plans, different front facades and internal finishes and slightly different private outdoor space sizes. After some discussion and internal agonising, it was decided that a flip of a coin would determine the outcome. Let fate decide! So in a nail salon Katie and Karen stood watching as a stranger they'd asked, flipped a coin into the air.

The villas will be split by way of a Deed of Partition which is a great way for joint venture partners to work together and then end up with a property each. Talk to your solicitor about how this is managed as you must ensure the Deed is formed before the subdivision of the villas is registered.

"The best things we liked about this project were the ease with which it was executed and the stunning look of the finished villas which we could easily imagine living in ourselves", said Karen. "All the details were managed by Property Bloom. "I was doing an extension on my home at the same time and the stress I went through in organising that project was divorce material…. almost. In comparison, the development of our villas happened in the background, any stresses and concerns absorbed by Jo and her team. And the best part is that my friendship with Katie has never been stronger, our trust in each other proven."