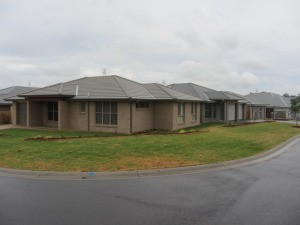 Read Part 2 of our clients weekly progress reports. We do this each Friday in a formal written report with photos. The report system proves to be a good record of progress and what happened throughout the project.
17.8.12
The Kitchens have been installed and the painting is almost completed. The tiles and the Baths have arrived on site and will start to be installed early next week.
24.8.12
The Painting is complete and the Tilers are on site this week. The Baths have been installed and the Water proofing around the showers is complete ready for tiling.
31.8.12 – This week the Fit Off has commenced. The electrical and plumbing fittings are being installed. On discussing progress with the site manager, the following is expected over the coming weeks
- Fit off underway, finished mid next week
- Concreter starting on Monday on the driveways
- Carpet installed by the end of next week
- Then blinds and shower screens the following week
- First construction clean next week
- Landscaping & fencing approx. w/c 17/9
- Practical Completion inspection approx 3-4 weeks, we are aiming for w/c 17/9
7.9.12
This week the fit was completed and the driveways where poured. The first clean has taken place ready for the carpet to be laid. Landscaping should start to take place soon including the fencing between the units.
14.9.12
Carpets went down this week and the landscaping is scheduled to start on Tuesday 18th. Property Bloom will now start to get the ball rolling on tenant procurement; however the Occupation certificate is still a number of weeks away yet.
21.9.12
We met with the leasing agent on site yesterday; we have a long standing relationship with this agent and an exclusive Property Bloom discount structure in place for our clients. Their appraisal will be received by mid next week.
Meanwhile, landscaping has commenced and should be complete today. Fencing will commence on Monday leading up to a Practical Completion date of 4th October. We have booked the first Open House for Friday 5th October as all works will be completed by then. We are working with the builder and our private certifier on the Occupation Certificate and expect them by 12th October which will allow Tenants to move in after that date.
28.9.12
Land scaping and fencing is complete. The painter was completing his touch ups today.
We have confirmed the sealant treatment on the Driveways and they should be under way late next week. We are set for the Practical Completion inspection on Thursday at which time I will walk through the development with the Construction Site manager and pick out anything we feel is incomplete or needs attention. We know of a few items that we are hoping will be complete prior to the inspection. These are:
- Mirrored wardrobe doors (the builder's supplier has been lagging)
- Rain water tank connection
- Driveway sealant – to be done once all trades are off site
To finish the week on a good note, our builder has agreed to tile the rear Alfresco Dining areas on each Unit for free. This is great news and is valued at approximately $2,000 – $3,000. Previously they were to be colour sealed however as a huge gesture of good faith, they have agreed to tile the entire areas after we complained of the durability of the sealant on other projects.
Have you received the Agency Agreement from our preferred agent? If so, please sign and return to them asap and we can start to advertise for Tenants. You will note the discounted management fee.
5.10.12
The PC inspection took place on Thursday. There were still a number of minor items that require attention which we will have sorted out by mid next week. I have attached the Survey and the letter from the surveyor outlining the process to lodge for the subdivision to this week's report. The best idea is to get in touch with your lender and understand what their process is for sending the Title to LPI. We can assist in this process, knowing you are going on holidays soon.
The final inspection for Occupation Certificate will be next week. I have request this be pushed forward if possible.
12.10.12 – The driveways have been sealed and look great. The Occupation Certificate inspection took place today and we expect our certifiers' fast turnaround on the OCs. Our contact at council who is assessing the subdivision, is away today so we will follow up again on Monday. The first Open House is set for 3:00pm today and we will report back to your on the result.
19.10.12 - The Occupation Certificate has been issued for both units and a second Open House was held yesterday afternoon. From the first Open we received a strong application and you approved the tenant during the week. As a result of yesterday's Open, we received another application of three nurses working at the hospital. The agent is processing their application. The valuer for the bank is scheduled to conduct their inspection for the builder's final payment. We anticipate the payment to go through by early next week, at which time we will arrange for Handover of the keys so the agent can start the process for your new tenants to move in. We will continue to manage the subdivision works, whilst you are away on your holiday. Have a great trip!
26.10.12 -Tenants are moving into Unit 1 tomorrow. As instructed, I have approved the second tenant application in your absence. We negotiated with our builder to let the agent take the keys prior to settling the final account in good faith and as a favour to Property Bloom due to your bank's valuer being a little slow in submitting their report and the bank releasing the final drawdown.
2.11.12 – Both Units are now leased with the new tenants moving into unit 2 today. This is a fantastic result given your OC was issued a matter of days ago. This is now your final, formal weekly update report as your project has officially been completed. Of course, we will continue to oversee the registration of your subdivision and are available to assist with any matters to do with your project. There is a 13 week Builders warranty on any defect, so Property Bloom will ensure the agent schedules a follow up inspection and ask the Tenants if there are any issues. We have ordered your Depreciation Schedules.
Congratulations on a fantastic development result; we are now working on your Completion Report and will have it ready over the next few weeks. We'll be in contact with you to get together for a celebratory lunch and give you the report. Thank you again for being such an awesome client!
So there it is – this dual occupancy project was under construction for just 20 weeks. The building contract stated 26 weeks and we had a few weeks of rain in the early part of the Construction Phase that did impact on our timing a little but we are extremely happy with this outcome. It was a great result for our client as we had tenants in her properties within a few days of receiving the Occupation Certificates.
I hope this gives you view through the window of property developing. Admittedly this was a smooth project, very straight forward with few hiccups. We did need to iron out a few issues along the way and negotiated some savings for our client not only in dollar value but also in time saved.