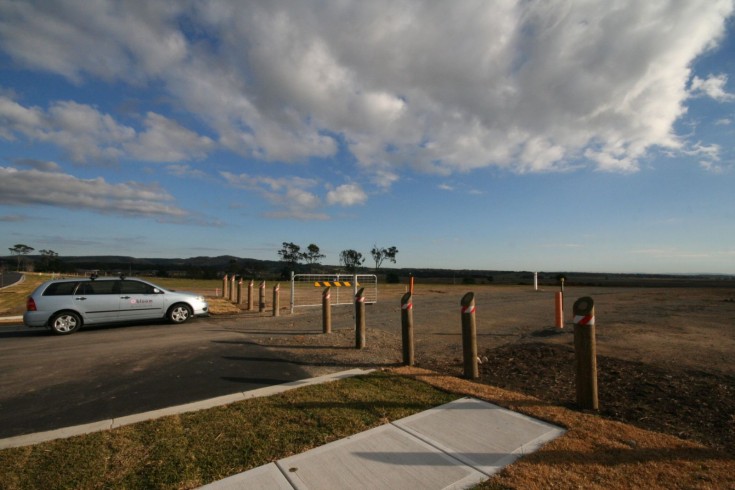 I found a great property development site a few weeks ago. It was a three bed house on over 1000sqm of land. Whilst this type of property is considered fairly common in this Hunter Region town, there were a few major pluses to the site.
1. Zoning. It was zoned for medium density development - you can build several dwellings on the land as long as you comply with the Development Control Plan (DCP). Most properties in this town are zoned low density which means we could only build one other dwelling if keeping the house. The house is not really a knock down.
2. Location. This property is right behind the shops and about 200m to the local school. You can walk to the new Coles or Aldi stores. Tenants love this as they may not even need a car, this will appeal to older, downsizers wanting to be close to facilities and young families wanting their kids to be able to walk to school.
3. Land size and fall. The land is relatively flat and the position of the house is right at the front of the block. The rear yard is large enough to build a duplex in it.
4. The house is old but in fairly good condition. We could rent it out immediately and still get a 6% gross yield or renovate it and get a higher return.
5. There is a rear laneway at the back of the property.
My initial development strategy was to keep the house and build a duplex - two attached two bedroom single story villas and a three lot subdivision, and the zoning allow this.
After my inspection of the house, I opened the back door to the yard and immediately loved the space, it seemed near perfect for our development strategy. I paced out the area and knew a duplex would fit, we'd need to allow for a driveway to access the duplex from the front road as council do not (usually) allow us to use the rear laneways for direct vehicle access. The laneways are nothing more than dirt tracks with no drainage. They were originally used for 'dunny runs'.
I opened the rear boundary fence gate to check the laneway and that's when I became more than excited. What I saw was a perfectly sealed road with kerb and guttering that lead to a drain at the next cross road. Whilst it was still a 'laneway' and there was no street name sign, it appeared to be used for deliveries to the shops and council had upgraded it substantially. I did find a property that appeared to have only vehicle access to it. Ah ha, precedence!
By now my mind is racing...what if we were able to use this laneway for our duplex access? We'd certainly have more options to play with:
1. Face the duplex to the laneway. We could also upgrade it to a three bedroom duplex and save on the long, expensive driveway.
2. Torrens title subdivide the duplex from the older house, basically cutting the land in half so each dwelling has a little over 500sqm each.
3. Renovate and upgrade the older house and it would be worth about the same that we paid for it on the larger land size. Essentially getting the land at the back for free.
4. Or, demolish the house and build another two villas - a duplex facing the street, effectively making this a four unit project. I really liked this one.
5. For a client on a low budget, we could simply cosmetically renovate the house and build a granny flat that could be relocated in the future so that the site could be used to its full development potential. This is what we call a stepping stone strategy.
Property Bloom loves this type of development site as it offers so many options to our clients and the house will provide some cash flow during the development phase. These sites are about as rare as hens teeth and so we get a big buzz out of finding them.
Our clients who have taken this site, completed a three unit development with Property Bloom earlier in the year and have come back for more. Their plan is to get as many developments under their belt before starting a family. They are both in well paid jobs and can take advantage of the depreciation benefits.
Our challenge now is to see if we can convince council to allow us direct vehicle access to the laneway. Our back up plan is to run the driveway to the front street as this will still work, but our goal is to optimise this development.
Watch this space and I'll let you know how we go.
www.propertybloom.com.au