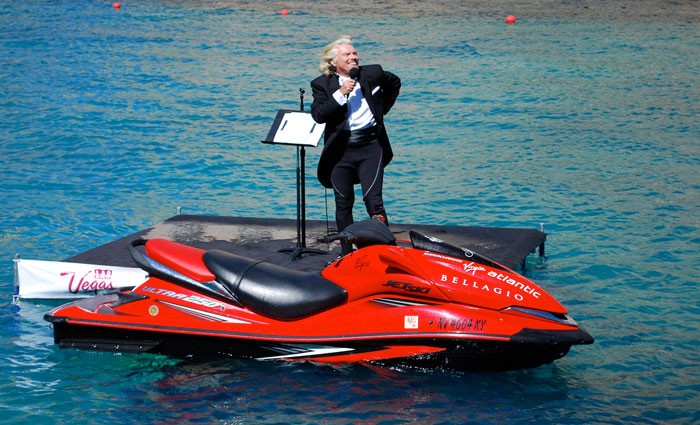 I was watching a news program recently when on came Sir Richard Branson. I find him such an inspiring entrepreneur and so my ears pricked up.
Sir Branson was talking about how he suffers from dyslexia and has trouble understanding some information. He went on to tell the story of at the age of 50 after building up Europe's largest group of companies, he was sitting in a board meeting when results were being discussed and he looked up from the spread sheet and asked if that was good or bad result?
The director said to him, 'Richard, I don't think you know the difference between net and gross?'
He owned up and admitted that was the case. The director then pulled out a piece of paper, and drew a picture of a sea full of fish and then he drew a fishing net with some fish inside it. He explained, 'Well, the fish that are in the net, that's your (net) profit at the end of the year, and what's outside is your (gross) turnover.'
The interesting point about this little story is that here is a multi billionaire who openly and happily admits that he didn't understand one of the more basic accounting terms. He went on to say.."...that is it doesn't matter too much. I mean, it's useful to be able to add up and subtract and maybe multiply. And apart from that, you can create an empire with 60,000 employees and find other people to add up the numbers at the end of the year."
How true. His strength is his creativeness and he looks to hire his weaknesses.
There is no difference when you apply Sir Branson's philosophy to property investing and developing. When there is so much to know why not hire what you don't?
When developing property you'll need to start with knowing the difference between a good development site and a bad one.
Then knowing all the costs involved so you can run your feasibility. You'll need a good understanding of the local council's policies so your Development Application will be approved. Then you'll need to know how to choose a good builder and understand their contract. A good understanding of the building process is essential and finally knowing the people you'll work with, having relationships in place so that your development runs smoothly.
But the main thing you'll need is actually nothing you need to know, it's something more important. Time.
Whether it's your first property development of fifth, every development is different and having time to run the development is essential.
At Property Bloom we take care of the areas of your weaknesses and give you back your time. And if it's learning the process that you want, then you definitely will achieve this from experiencing a development project being professionally managed.
Like Sir Richard Branson, if you make the most of your strengths and hire out your weaknesses then you are sure to move forward at a faster pace.