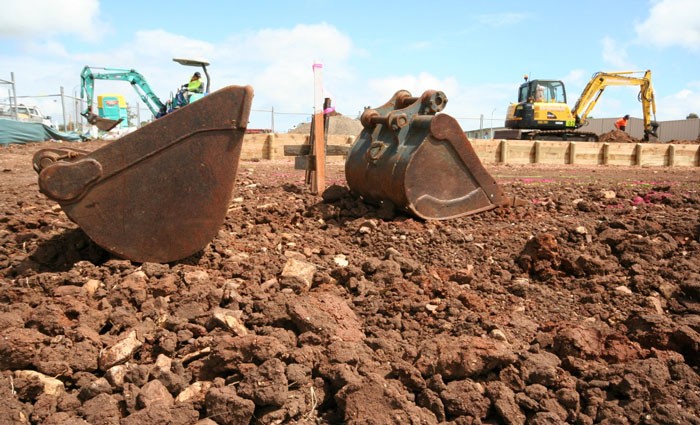 I received a call from a novice property developer the other day and thought I'd share his dilemma.
He'd purchased a duplex site and had just received a set of plans and had a builder quote on the plans. He couldn't understand why there was so much allowed for in "site works".
I looked over his quote for him and could see that his builder hadn't itemised out many costs. Our builder's quote or tender has about 75 itemised inclusions.
I explained to the caller that there was probably a lot of items included in his "site costs".
Site works cover a few different things. Some builder's refer to them a pre-construction works or simply excavation works.
After the surveyor pegs out the site, excavation will start. If the site is relatively flat, this may just involve a 'site scrape', which will remove the top layer of grass and bushes. If there are trees on the site, the excavator can sometimes knock them down or you may need to have these cut down and removed before the excavator comes to site. If so, make sure you leave about a meter or so of the tree stump above the ground the excavator will be able to pull up the root systems. All this vegetation has to be disposed on, so land with a lot of bush and trees is more expensive to prepare as disposal of debris will depend on the dump truck's load size or weight.
If the site is sloping then there will be much more work required to cut the site. There will be excess spoil to remove. This is included in "site works". Mostly there is a Provisional Allowance for this work which means you may pay more or less than the allowance, so it's important you have a builder who is experienced and accurate with their allowances. The builder Property Bloom uses is often giving credits for these works as I would rather have them over allow than under allow.
So back to my caller...I advised him to ask his builder to break down the costs for him that were included as "site costs" that way he could more clearly see what was included and understand the process.
This leads me to site selection and comparing development sites.
Last week we took a client with us to inspect two dual occupancy sites that we were told would be coming onto the market shortly. They were in the same suburb but different locations. The suburb profile really stacked up, a high proportion of owner occupiers, good sales references for comparable properties, lots of government and council spending on infrastructure and community services and high rental demand.
The two lots were pretty similar in size, both large enough for a dual occupancy development but there was one major difference. One lot had about a 3m fall from the rear to the front and the other lot had a very slight fall to the rear boundary.
The two lots were the same price. The lot with the 3m fall was in a slightly better location, closer to community facilities in the area and our client said our client liked that land better than the other.
However, after walking over both sites, I explained our choice was the other lot. This was because of the savings on site costs. The slight fall to the rear did not worry me as the sewer and drainage systems were already in place there. The fact that this land would need less cut, less spoil removed and most importantly very little retaining was why I liked it so much.
The land with a 3m fall to the street would require more cut and fill work, perhaps even the use of dropped edge beam slabs and also retaining walls. Unfortunately, these works add no intrinsic value to your development. You won't get any more rent or a better sales price if you have high retaining walls, in fact higher walls can detract from the appearance of the private open spaces.
So choose your site wisely and ensure your builder has a good track record with estimating the allowance required for site works.