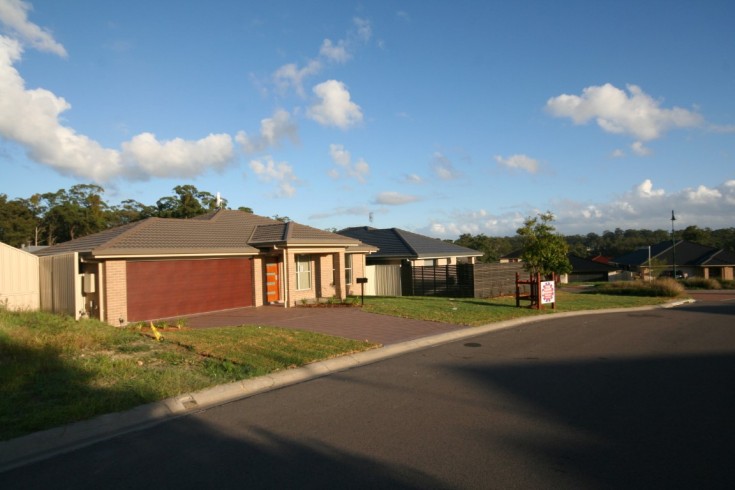 A good development strategy for a first time developer and investor wanting to boost their property portfolio is a dual occupancy project; buying land where you can build two dwellings and subdividing. The dwelling/villas may be attached or freestanding, either way you are basically halving the land cost for each. And that is where the value lies.
Where Property Bloom develops, there is usually opportunity to create around $100,000 in equity through a dual occ development within about twelve months. This does not take into consideration any capital growth that also may occur during the development period. That is a bonus if it occurs. If you are developing when the market is moving up, then you have timed your development well. Even if the market is flat, you can manufacture some equity. The equity created is purely because you are the developer and you are adding value to the land not with one dwelling but with two.
Here's an example of a dual occupancy project we recently completed:
Land cost: $200,000
Stamp duty: Nil
($5,000 NSW New Home Grant* applied so the government contributes $5,000 this off sets the stamp duty cost)
Legal fees: $1,500
Build cost, including subdivision costs, for two freestanding, three bedroom, two bathroom villas: $430,000
Total cost: $631,500
Actual end valuations: $750,000 or $375,000 per villa
Equity created: $118,500
Gross Yield 6.3% based on renting each villa at $380 per week.
If you are borrowing at around 4.5% then the project may be cash flow positive for you. This is when the rent and depreciation benefits combined cover the costs of interest, insurance, council, water rates and management fees.
Expected depreciation $20,000 Year 1 (using the diminishing method)
* http://www.osr.nsw.gov.au/lib/doc/factsheets/ofs_nhg1.pdf
Want to know how to do it? Well you can either use an experienced project manager to guide you through or have a go yourself, it will depend on the resources or skills you have available; time, experience and some grit. The steps involved in a dual occupancy development strategy are:
Finance preapproval. It's important before you start looking at development sites or any property, that you have a preapproval from a lender in place.
Understand the council requirements for dual occupancies in this area. Read council's Local Environment Plan (LEP) and Development Control Plan (DCP). This will let you know the size of land you'll need for your dual occ and what is permissible. I
Focus your attention on the area you want to develop in; making sure the location is correctly zoned for dual occupancies. But even if it is zoned for this type of development, there may be covenants on the land preventing it. It's important to narrow down to one or two suburbs based on your research. This is a really important stage and you need to understand the area well.
Search for land that meets the dual occ criteria; size – look at the frontage and know what the minimum width is for your dual occ. If it's a duplex site, you may need a minimum of 18-20m frontage – it will depend on the duplex design you want to use. Look at the depth and size to ensure the land is large enough to meet the DCP requirements, look at the aspect and if there is enough area to meet the minimum outdoor private space requirement. Make sure there are services to the site; electricity, sewer, gas. Then ensure the land is relatively flat with a slight slope to the street unless there is a drainage easement at the back.
Check the Planning Certificate to see if it is in a bushfire or flood zone. You can still develop in these areas but it will add to your build costs.
Have your builder look at the site. This is very important as the builder will look at the land from a different perspective.
Run your feasibility to ensure the project will be viable. You will need to find recent comparable sales references then you can base your end value estimate on this. Talk to agents about the current rental market and what rent could be expected then work out the projected yield on completion. Most importantly, you need to have a good understanding of the build costs. The build costs will evolve over the design and planning process. Your builder can give you an estimate once a concept plan is available, but as the full Development Application (DA) plans and documentation is available, the builder will then need to run a full tender. You can cross check this against your original estimate. If it's in line, lodge the DA if it's not, go back to the design and look at areas where you can reduce costs. Once the plans are approved, the builder may run a second tender if council asked for any changes. If not, then a last tender will be generated once the engineer's plans for the Construction Certificate (CC) are available.
Secure the dual occ site and try for a long settlement period with permission to lodge a DA from the vendor. You can get all the design work and perhaps even have the DA and CC approved before you settle on the land, this will reduce your holding costs. Make sure you include the subdivision on your DA.
Once you have the DA & CC approvals, you can then go back to your lender to obtain your unconditional construction loan. As soon as this is in place, the builder can start.
The build phase for a dual occ should be around three to four month or so, depending on weather. You need to be on site each week to check the builder's progress and put out any 'fires' that may arise as you are under construction.
Once the building works are completed, an Occupation Certificate will be issued. You can now have your villas tenanted. Don't forget to order a depreciation schedule, this is simple, just email the plans and builders tender and any other cost details to your Quantity Surveyor.
You can now apply for the subdivision certificate and once council issues this, you can register the subdivision (after your lender has signed off on it). There is no need to register immediately if you are planning to hold and not planning to refinance as you may find costs such as rates may be a little less if the villas are kept on one title.
Although I've summarised the process very quickly, it's not that straight forward, you really do need the time to work on this development strategy closely as mistakes can be costly when developing property. But you can have your cake and eat it too by using an experienced property development project manager. You will learn so much from the process, can still keep your day job and know that you are in the hands of a professional. Then you may find you will be ready to do the next project on your own.