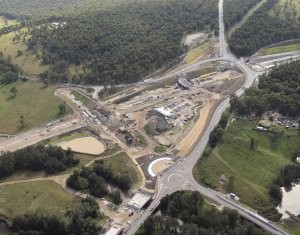 One of my favourite and most exciting research criteria when looking at areas to invest is infrastructure projects.
When a government or private sector announces a new infrastructure project, history tells us that it will boost the local community. Infrastructure projects yield indirect benefits through the supply chain, employment, business and retail growth, consumer spending, social benefits of community development related directly to the project and my favourite, property values increase.

The increase in property values that is associated with the construction of that piece of infrastructure goes beyond what would be perhaps the case of the normal appreciation of property.
I have been told there are two stages of a major infrastructure project that most effect property values. A spike in values will take place shortly after the announcement of a major new infrastructure project and then again when the project is completed and functional and the benefits of the project are realised.
I've seen this first hand with the announcement of the Hunter Expressway a $1.7 billion road project that will provide a dual carriageway linking the F3 to the New England Highway.

The project was announced in the 2009 Federal Budget but had been originally proposed back in 1988. It has been a long time coming. What I saw after the announcement was a distinct demand in areas impacted by the project, particularly around the interchange area and where the highway would finish.
A development project we have completed for clients in one of these towns is testament to the impact the Hunter Expressway has had. The development site was a three bedroom house on a large block. The development strategy was to renovate the house, build two three bedroom villas and subdivide.

Something amazing happened and the equity creation in this project was phenomenal. The land benefited from capital growth at the same time we were developing it. So the normal equity we create through the development process was almost doubled due to the capital growth during the development period. To add to that, the house was rented and still is, at a record high rent by construction workers employed in the project.
The cherry on the top for our clients will come later in the year when we hope to see that second spike and increase in property values when the Hunter Expressway is finished.

We are looking forward to seeing the impact the opening will have. For me the benefits will be twofold; firstly my clients in many of the Hunter towns we work in will benefit as we've been busy developing in these areas for the past ten years and secondly, it will shorten my travel time each week when I do my site inspections. I am really looking forward to cutting about 45 minutes off my trip to Muswellbrook!