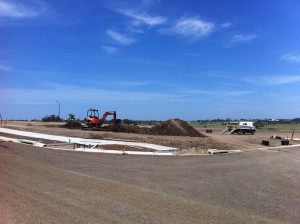 Today I found a property on the internet that I thought had sold a few months ago. It was still marked "Under Contract" but they'd just forgotten to remove this after the sale fell over. I phoned the agent to check and yes the sale had not gone through. Ah, I love it when everyone else thinks a property is sold, it gives me a bit more time to assess.

As I stared at the one measly photo on the agent's website, my heart rate increased.

I started my Property Bloom development mental check list:
Location – Double Tick. It was close to the Hunter Expressway interchange, this is a massive infrastructure project in the Hunter, a six lane freeway link due to open later this year. And, the property was very close to the local public school.
Land Size – Tick. Over 870sqm – more than enough room for a good sized duplex.
Price – Tick. If we can secure the land at about a 9% discount it'll be a great buy.
Cost effective development – Tick. This project will suit a developer on a budget (aren't we all?) as the total estimated project costs are around $518,000.
I continued my enquiries and found that the property was an estate sale and had been on the market for a few months now. I'm guessing those estate recipients may be getting a little impatient and more likely to take a lower offer.

I was chatting to the lovely young agent about how long it had been since the sale fell through and asked "what the vendor's expectations were?" What I meant was their expectation on whether the property should have sold by now? But instead the agent blurted out a price…a much lower price than the listing price. "Oh, ok, that's interesting" I said as a small smile started to form at the corner of my mouth.

So now I knew what the last offer had been accepted at and quickly plugged this figure into my feasibility spread sheet. That certainly helped the bottom line. So I made a mental note to offer $10,000 less.

I received the contract by email and scanned straight to the Section 149 Planning Certificate. More boxes were ticked when I saw it wasn't in Bushfire zone (like some of the land in the Hunter). Building to meet bushfire requirements can add another $10k or so to a dual occupancy cost.

The sewer location is ok but running through the middle of the block, we may need to spend some money on encasing the sewer line but perhaps not. I added some contingency for this in case.

A quick look on Google Maps gave me an idea of what the demolition costs may be to remove the old house and to check the aspect, the way the land was facing. The aspect was workable, not ideal but a quick redesign of the floor plan will see our living spaces north facing.

Looking on Google Earth and knowing the area, I could estimate that the land was pretty flat so that will minimise site works such as retaining walls.

Now, all I needed was an interested client. I often find property before we have a client ready to move forward. My newsflash went out to our database, people who had signed up to receive the free Property Bloom newsletters which are full of interesting info on property developing and often available development sites like this one.

I'm still sifting through responses but if you are interested shoot me a quick message. It may be your lucky day however there's still much more research to be done before an offer would be made on this site and for our new clients it's important they have finance preapproval and have discussed the project with their accountant and financial planner.