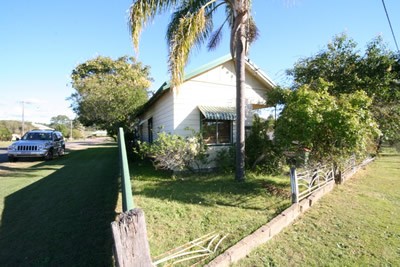 This week Property Bloom finished a fabulous little renovation. It was an ugly house where we removed a few internal walls, opened the living spaces and created another bedroom. We added a nice timber deck entrance and we've worked hard to keep costs down using a kitchen from Bunnings (that looks gorgeous), recycling the original bath and laundry tub, tiling around the terrible 70's fireplace, paving an unappealing outdoor space to make it more usable and polishing the beautiful floorboards we discovered under the old carpet.

This reno was all about pushing the yield of the property although we've defiantly added a bit of value along the way. You see this property was purchased specifically because of its attributes for adding another dwelling; not for the existing house's appeal. The house is on a nice flat corner block with plenty of room to add a garden villa.

The property cost just $209,000, we spent about $30,000 on the reno and it will now rent for $295 per week but the real value will be in the second dwelling we add. For a cost of about $105,000 we will build a two bedroom villa and it should rent for around $280 per week. So the combined rent will be $575 per week and the cost of the property, renovation and building new dwelling is around $350,000. This gives a gross yield of 8.5%.
At the same time, we've been running some numbers on a much larger renovation project.


We have a client who asked us to manage a 'renovate and sell' project. Normally, we'd be looking to add value through renovating AND adding more new dwellings and subdivision. In this case, the brief was to find a good house that we can simply add value through renovation. Our client wants to sell immediately to make a gain.
My initial thoughts were that this strategy is risky. Risky because we'll only be adding value to an existing property. It can only work IF the property cycle is in the right stage.

After some reflecting and discussion with my team, we needed to determine if we were in deed at that 'right' stage or not. Our client also needed to do his own due diligence on this.

The reason Property Bloom does not normally manage pure house renovations is because in my opinion, this development strategy relies on the market moving upwards. It also needs some very keen negotiations to buy as low as possible, so you can't be buying in a 'hot' market. The trick is to pick the market so that you can buy well, renovate and ride the upswing as you sell.

Also, some very well planned renovations are required. The later we can manage but the direction a property market is moving in; especially in the early stages really comes down to an educated punt.

Now that the long awaited election is out of the way, the government are fresh, I have a feeling 2014 is going to be a great year for property investors. I feel we'll see some strong demand to buy because interest rates are low, sentiment is high and there is pent up savings that we've made during the GFC that might be burning a hole in our pocket. Property yields have been performing well and really…why wouldn't you invest in property right now?

For this large renovation, we've found a wonderful Federation style house with beautiful features. The location is second to none in this large regional town. We've identified that a second bathroom can be added, a new kitchen with some great features such as stone benches, decent brand appliances and ceiling high cupboards (as we are working in the upper end of the market on this one) will be required and a fabulous facelift to the property. Special preparation and painting with some very well thought out designer paint colours inside and out, not just a quick coat of paint, is needed. It's said that higher priced properties generally combine three or more colours on the exterior. This will give us the 'wow factor' from the street.

This renovation strategy is all about attracting an owner occupier buyer hopefully with high emotions. For this renovation and sell development strategy to work, I think it will come down to a combination of buying well, in the best location possible, savvy renovations and an emotional buyer to make our client some good profit. Stay tuned and we'll let you know how it pans out.