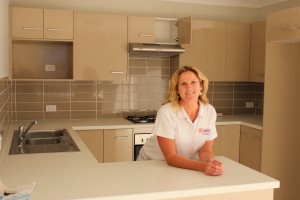 Last week Property Bloom was offered a few DA & CC approved dual occupancy sites. They are in a town where dual occ sites are extremely hard to find right now. This town's median price has been growing steadily as a result of investor activity increasing over the past 24 months as people are attracted to the high rents being achieved due to an undersupply of housing.
If there is a two speed economy, this Hunter town is in the top speed category.

As I spoke to the builder offering me these sites (off market), I was running the figures in my spreadsheet. They had a set price for the land and the building costs. I jotted down the costs for the three sites, and then went to work comparing them with other dual occ developments we had recently completed in the town.

Usually Property Bloom's first aim is to achieve a high level of equity from a development for our clients. Then we look at the yield and strive for 7.5% for a dual occ, higher on other types of development. Dual occupancy means building two dwellings on one lot. We can usually achieve a good amount of equity by sourcing the land and building two villas. The villas may be attached and therefore part of a duplex or they can be freestanding. A dual occ project may typically take 12-18 months to complete (usually depending on the council processing time).

Looking at the expected equity outcome on these sites we could see it was a little low. But the real advantage in these deals was time and money; the fact that we could start building immediately and the price was fixed.

There would be no contingency required and the builder is essentially taking up all the risk. Even hitting rock was including in the fixed, turnkey price. Turn key means that all landscaping, driveways, letterboxes, clotheslines…everything is included so you can turn the key and move in.

The other important factor was that the costs for the DA and CC (Construction Certificate) were included, even subdivision was included. So, all fees and charges had been paid for. I estimated there was at least $15,000 in this. We could start building immediately.

The icing on the cake was in the terms. This builder was structuring the drawdown schedule for us so that only 10% of the build cost was paid by the time the slabs were laid and 90% on completion.

This is where my clients could save some serious holding costs.

Normally there would be five draw downs during the building works, typically at slab 20%, frames & trusses 20%, brickwork & roof 25%, interior linings/mould out 25% and Completion 10%. With 90% of the cost being paid on completion, clients will save thousands of dollars in holding costs.

If we only looked at how much equity we can create from a development, we would have passed on these opportunities, but when we look at the other valuable advantages of getting into this market quickly, high depreciation benefits, high yields and low risk then these development opportunities are attractive.

A development you can turn over quickly will allow you to move onto the next one.