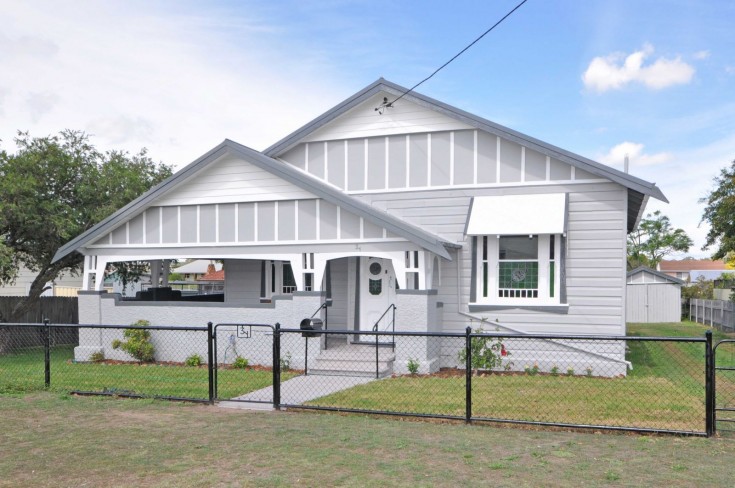 This week I felt like I'd given birth – not to a real baby (Heaven forbid at my age!).....but to our Bungalow Baby. The gestation period has only been a couple of months but our vision started long before.
When renovating, you start with a vision and then bring it to life. Sounds easy enough but there are millions of tasks along the way that need attention and usually, immediate attention (just like a new born), so you need to drop everything to sort out the issue. For me creating the vision or big picture is the best part of a renovation and seeing how close you've come to it on completion gives you a feeling of great satisfaction.
We found our 'baby', an original Californian bungalow in Cessnock in the Hunter Region of NSW and she was crying out to be restored. She had great 'bones' and wonderful features that we knew we could accentuate. These included a wrap around veranda, brilliant lead light windows, ornate cornices and ceilings, Spotted Gum floor boards hidden under the old floral carpet and an old claw foot bath that had been enclosed and locked away in ugly framework and finally a breathtaking mature Magnolia tree that adorned the back of the house.
Californian Bungalow in original condition:
wrap around veranda:
Lead light windows hidden by broken blinds
Ornate ceilings and cornices:
Renovating is a revolving door of constant checking and problem solving; rechecking of trades work, discussing issues, booking in the material orders, checking they've arrived, discussing replacements if not available, checking budget, adjusting budget, updating budget, checking comparable sales references, adjusting expectations, checking services, upgrading as required....the list goes on. I'm lucky I have a wonderful project manager; Joanne whose attention to detail and negotiating skills are amazing.
This week as Property Bloom finished the job on our bungalow baby in Cessnock, we watched as our stylist dressed her up and we're just like proud parents watching our child grow – we think the transformation is wonderful. We had been lucky to have the help Kylie of Property Revamped http://propertyrevamped.com.au/ Kylie managed the colour and fit out choices; kitchen, vanities, paint, light fittings etc leaving us to focus on managing the trades and budgets.
Our client is very pleased and the agent extremely impressed. Now comes more nail bitting times as the property is listed and inspections begin.
The Californian Bungalow is circ 1920s with traditional oversized rooms and the high ornate ceilings and cornices are spectacular. The hardwood floor boards were identified by our floor sander as Spotted Gum and have polished up a treat. There's two new bathrooms, main with restored claw foot bath and separate shower has a feature wall of marble tiles which finishes off the luxurious look. Of course a spacious new kitchen but the loveliest features may well be the original leadlight windows that have to be seen to be appreciated. The home is situated in one of Cessnock's most sought after streets and within walking distance to schools and shops. It's just 7kms to the famous vineyards of the Hunter Valley. All set on a child friendly, fully enclosed massive 809sqm block.
Guess what the asking price is?
$385,000. A great downsizer for city folk perhaps, especially now the NSW Government are offering up to $10,000 to relocate and work in regional areas.
http://www.osr.nsw.gov.au/grants/rrg
If you are looking for an investment that will enjoy future capital growth (they don't make this type of home anymore plus the suburb has enjoyed solid historical growth) the expected rental return would be around $380 per week with some decent depreciation benefits.
Take a look at the finished product and let us know your thoughts....
http://www.sternbecks.com.au/properties/re13085/
Main bathroom:
Powder Room:
Master bedroom
Lounge room: