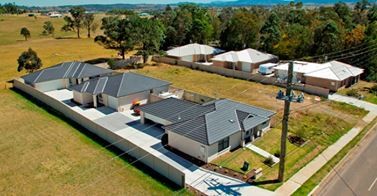 This week I was speaking with one of the land developers we source our development sites from and was interested to hear her say that they'd been told that the NSW State Government were currently fast tracking land releases to meet their housing acceleration goals. Music to my ears as we are always on the lookout for good development sites in well planned areas.
One of the most important roles the Department of Planning & Environment is to work closely with other agencies, councils and communities to plan for housing supply and delivery in "greenfield" or undeveloped areas, and "infill" housing in existing areas.
The NSW Government has allocated more than $300 million from the HAF in the 2013-14 NSW Budget to drive housing growth.
This includes:
$141 million towards eleven water, road or electricity projects in Sydney and the Lower Hunter which can accelerate 42,900 new housing lots.
$70 million towards an upgrade of Old Wallgrove Rd in the Western Sydney Employment Area to deliver jobs near major housing growth centres
$99 million towards the Local Infrastructure Growth Scheme to assist councils fund local infrastructure needed to support growth above the developer contribution cap.
With our focus on project managing property developments in the Hunter Region of NSW, I delved a little deeper into the NSW Planning website which is a fantastic source of information. I wanted to see where the $141 million spend on infrastructure and where the new housing was planned for, although I already had a very good idea.
Maitland....it's one of Property Bloom's favourite cities to build and invest in throughout the Hunter. This city has experienced solid population growth, has a diverse economy and the planned growth of the city is no secret. Council has identified several areas for new land release. It's an affordable yet established city and benefited from some recent infrastructure projects such as the Hunter Expressway opening this year, a new hospital being announced, road and bridge upgrades and an aggressive planning program to accommodate one of the state's highest population growth projections.
Maitland's population is projected to grow by 42% from 2011 – 2031. It's one of the highest projected growth areas of NSW. The main drivers will be net internal migration from within the state – people moving perhaps from Sydney or other areas and interstate migration. Also from high fertility rates, apparently they make lots of babies there. Actually what that means it that it's a nice place to raise a family with good schools and facilities. Housing is affordable and there is solid rental demand.
Check out the website, it also gives you the age profiles of the community, household types and size and my favourite, projected dwellings – this shows the number of dwellings needed to provide private housing for all projected households. This is a fabulous tool and we are using it to understand the local councils and NSW Planning expectations. We can then help our clients develop their property development strategy targeting the right locations for their developments.
http://www.planning.nsw.gov.au/projections
Property Bloom project manages villa developments; dual occupancies or larger medium density developments as well as granny flat complying developments. One of the points raised on the NSW Planning website is that in 2011, couples with children were the most common household type in the Lower Hunter. However by 2031, most households will be occupied by couples only or those living alone, together making up 56% of all households in these regions. Also the 65-84 year age group is projected to almost double in NSW. So the low maintenance villa dwellings that we are producing will meet the demands of this emerging market.