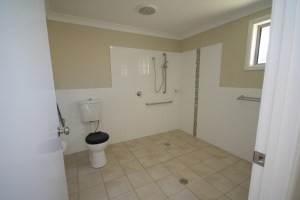 Property Bloom is just completing a three villa development for a client in Muswellbrook. Under this council's requirements we needed to design one of the villas for people with disabilities. The villa needed to be adapted to ensure that a person with disabilities could live there comfortably.

Some of the requirements included a kitchen bench designed so that it can be lowered, wider hallways, wider doorways with lever handles, wider access to the shower with a small ramp so a chair may be wheeled in, powerpoints located higher on the wall and a ramp with railing at the front for a stepless entry.
At first when told of the requirement, our client saw this as a disadvantage, thinking that the villa would be less marketable than the others. However as we've worked through the building of the development I can see the opposite. This villa looks more spacious and I think the small adaptations will add value to it.
Not only do we have an aging population where at some time in our lives we are going to want to live in easily accessible homes, no stairs and wider access for our walking frames or wheel chairs. But did you know that almost twenty percent of Australians have a long-term disability. As the Australian population ages, this percentage will increase.|

As we age, we want to live independently for as long as possible so having more housing specifically designed for the elderly and disabled makes sense. An accessible home is about freedom – freedom to move about with ease and confidence, knowing that regardless of our circumstances we can remain relatively independent.
Too often our homes are not equipped for changing needs, from raising small children, to welcoming or looking after ageing parents, to recovering from a sporting injury and needing to use crutches or simply finding that the stairs are steeper than they used to be.
Designing an accessible home will not only produce a sustainable home but one you could live in comfortably for a lifetime. This could not be more relevant than now. As our demographics continue to change, there will be more demand for such housing.
More people than you might imagine unexpectedly need accessible housing; just thinking about my family…my husband recently needed a knee reconstruction after a surfing injury. We have two flights of stairs in our house, which did not make it easy for him. Australia-wide almost 22,000 people annually have orthopaedic knee surgery. My mother has had two hip replacements and so I can see the benefits that a well designed home can deliver. Even bringing a pram into my house when I had my babies was tricky with our narrow hallway.
When designing remember to integrate the adaptable housing components, do not isolate them or use a different standard of materials and finishes and the house will look less like a nursing home. This was our concern for the front entrance ramp and so we designed the balustrade to tie in with our slat fencing than go with the one that the draftsman had used on the plan which did look a little hospital-like.
One last thing to consider as well that I hadn't thought of, even though my uncle is in a wheel chair, was carpet pile heights. Can you imagine trying to wheel through a thick carpet?
Embrace adaptable design and you may just find your developments in high demand.