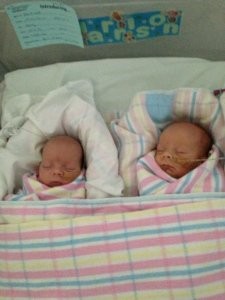 The twins were the size they were supposed to be born at, but our client Rachel had an emergency delivery over twelve weeks ago. She almost died on the operating table losing a lot of blood. If it wasn't for her amazing obstetrician and team of surgeons on hand and a high tech method of stemming the blood loss (featured on the news), she wouldn't be here today nursing her two gorgeous babies.

I was meeting with Rachel at her home to celebrate (with no champagne due to breast feeding requirements) the completion of her dual occupancy development.

The Property Bloom managed development had gone particularly well and achieved the following outcomes:
Final costs were $38,459 LESS than the original estimates due to our lower offer on the land being accepted and also the build costs were considerably less than originally estimated. We also did not require our contingency sum.
The valuations came in $20,000 higher than our lower end estimate or right on target with our higher end estimate.
Equity position was $58,456 more than originally estimated.
The project was completed within fourteen months from Exchange on the land to Practical Completion of building works.
Return on Investment result was a massive 18% (within 14 months).
Gross yield was just under 7%.
Depreciation benefits were high.
The medium price for this suburb had grown by 6.08% over the past 12 months.
As I held baby Grace whilst baby Harrison looked on and trying to remember just how to burp a new born, I mused over how amazing this woman was. As she was recovering in hospital from her near death experience, she was also settling on another property purchase, one that Property Bloom had found for her.

Rachel now owns eleven investment properties and was feeling a little frustrated because she couldn't buy her next property or do another development with us until she went back to work, probably in a couple of years.

By the way, did I mention Rachel has four other children? So just how does a mother of six come to accumulate eleven investment properties?
Focus, determination and drive.
These three words are so important to all of our plans. Rachel told me how one of the accountants she saw said she was "lucky" to have so many properties! We chuckled about this comment as luck has nothing to do with what she's achieved.

Another comment made by her bank's 'Relationship Manager' was she shouldn't be holding so many properties, it's risky and he wouldn't give her any more money. Funnily enough, she's planning a move away from this bank, or at least this manager who works for one of the Big Fours and can't understand her strategies and goals.
Rachel will continue to invest and develop property until she reaches her goal of early retirement. What an inspiration she is to all of us…so what's holding you back?