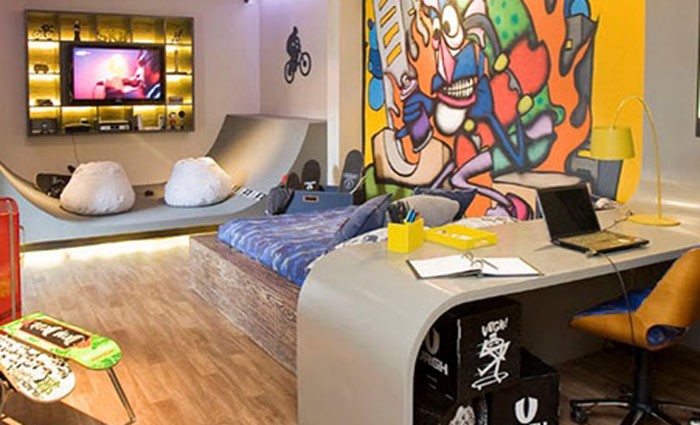 This week whilst finalising some new floor plans for our clients, I started to wonder what we could add to give them a new twist on modern living. I asked, "do we really need the formal dining area or separate lounge room anymore and what could we replace them with?"
One of the newer additions to the home is the theatre room which is a space dedicated to watching movies....but could there be other needs we can meet with a specific room?
There's one that comes to mind immediately... the day spa room! I would love a space that mimicked a day spa, a kind of extension I guess of a luxury bathroom but with a space off it to lounge around and read whilst your face mask weaved it's magic. With speakers filtering new age music filled the air, wafts of calming lavender oil burned and locks on the door to keep the kids out!
What used to be known as a library may now be called a Technology Room, I envisage it as an irregular shaped room with beanbags on the floor or hammocks swung from the roof, where you lounge around, surfing the net or playing the latest online games but still with a cosy reading nook to escape inside a good novel whether it be read from a book or tablet.
One of the more cooler ideas that my boys came up with was a skate room to hang in. A bedroom with curved walls or a half pipe to go full Caballerial on (you may need to Google this if you don't have young sons).
Outdoor kitchens have been popular and you can extend this to include a backyard cinema with courtyards with fire pits and built in bench seating.
Of course there is the original Man Cave that has typically been the old shed or garage but the modern man is looking for far more these days and his cave may include a full gym, full cellar or full on recording studio.
Don't forget the She Shed, an area where a female can make a little sanctuary for herself. perhaps a little outdoor shed converted into a luxurious, chandelier hung hideaway. A space where the outdoors blended with the indoor space with a comfortable lounge, lots of cushions, throws, plants and candles.
Perhaps an economical addition to the home is a twist on the traditional guest room. These days, you can make a killing by renting out a room in your house on Airbnb or Stayz or to overseas students. So make the guest room a little more appealing and self sufficient by adding items like a bar fridge they can keep fresh snacks and drinks, a small desk they can set up their laptop/tablet and work at including a little sign with your WiFi password so it's easy to find.
All these ideas led to one extra inclusion in our floor plan and that was a home office. It has now become a feature of all Property Bloom developments as we all need a space to work or study from in the home and so we now have our kitchen supplier design and install a built in desk with storage and shelving and tenants are loving it.