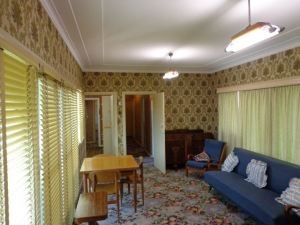 Last week we found a fabulous property for a client wanting to do a granny flat project with Property Bloom. It was fabulous for two main reasons;
The large 950sqm block with extra wide frontage and rear lane access.
It was renovated.

Normally, for this development strategy we would look for houses that need a cosmetic renovation. Our definition of a cosmetic reno is internal paint and perhaps external paint (if absolutely necessary, sometimes a good gurney is all that's needed), new carpet/floor coverings and some repairs, perhaps a little work to the front garden to increase the street appeal. We'd be looking to spend no more than $10,000. Often once we start our cosmetic reno we find lots of other repairs and upgrades that should or could be done and clients sometimes decided that they really do want a new bathroom or kitchen after seeing the house empty and painted. The older kitchen that looked fine before the fresh paint, now looks a little drab. They start saying "If we do the kitchen, we may as well do the bathroom…." and so the reno budget expands. But where do you draw the line.

As project mangers our job is to keep the emotions out of it and advise our clients on what's required to achieve a certain rent. It all comes back to the return on investment and we don't want to overcapitalise.

With our cosmetic renovation we can increase the rent quite dramatically in this town; usually we'd see a jump in rent of around $60-$80.

The real benefit of finding this fully renovated house meant that not only was all the hard work done, but the risk in renovating was also removed. Also, it wasn't just cosmetically renovated it was fully renovated. It had a new kitchen, new bathroom, been painted, floating timber floor boards, new carpet, new internal doors, new light fittings and ceiling fans, revived built in robes, new blinds, had been rewired and even a new solar powered hot water service had been installed. The cost of the renovation done by the previous owners was well over $40,000.

The big win for us was the price of this property. The median price in this suburb is $246,000. We paid $265,000, so just $19,000 above the median. This property is above average due to the size of the land and its location, close to schools, shops and walk to the local club. Un-renovated this house may have sold for around $250,000 in today's market – the previous owners purchased it years ago so they still made good money. So in reality, for an extra $15,000 we have a fully renovated property and the 'unknown' was removed.

The other major benefit was that the house is not occupied and we negotiated access to hold open houses to find a tenant during the settlement period, so the day after settlement our clients will start receiving rent without any down time due to renovations. The expected rental return on this property is $340 per week, on a purchase price of $265,000 this is already a $6.7% gross yield.

Property Bloom will add further value by building a granny flat for around $96,000 which will rent for $280 per week and our end result will be a strong 9% gross yield. Sometimes the value has already been added to properties. As long as you can purchase at the right price what's the point of renovating yourself if the numbers stack up? Save yourself the time and pain and move onto your next deal.