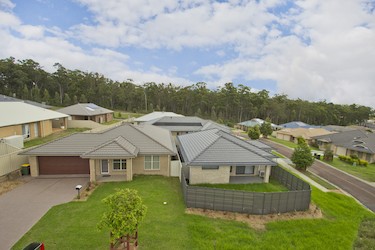 This week I met with a lovely couple wanting to understand more about property developing and if it was the right strategy for them. They asked a simple but very good question which is relevant for anyone looking to take their first steps into property development.
They wanted to know what the main risks were in developing property.
I think most people understand there can be risks associated with any investment whether it be buying shares (to me the volatility of the share market is scary), even putting your money in the bank in some countries (particularly Greece!) can be risky. In Australia, our banking system is very stable but the return on cash term deposits is hardly worth the effort right now.
Investing and/or developing property can be risky if you don't do adequate research. Even if you do, there are still some environmental factors that cannot be controlled like weather and governments.
Firstly, it's important you chose a good location and a good property. Ask yourself "can I add further value to this property?"
By adding value I mean through renovating the existing dwelling and/or developing the land. At Property Bloom we always look for houses with 'good bones'. Large homes that have a minimum of three bedrooms and areas that may be converted to extra bedrooms. Adding a bedroom is the number one way of adding value to a house. We like homes with nice features that you can enhance through renovation, it's amazing what we've found hidden away after starting a renovation - some beautiful, ornate ceilings or fire places that have been covered over by previous owners.
Location is most important as you need to be within close proximity of community services such as schools, transport, shopping and sporting facilities.
The development sites or bare land we look for needs to be in high demand areas and must be subdividable - this is the number one rule if you want to create equity or value. Getting two or more properties from one is key when developing property.
We love master planned estates that have been thoughtfully designed to meet resident's needs. These estates can be are valued higher by owner occupiers and tenants than the older, established areas that have less facilities.
When you develop property, you need to be aware of outside forces that may pose risk for your project. They may include:
· Change in the economic environment such as a new government or rising Interest rates.
· Increasing costs in materials and labour, like when the carbon tax was implemented. This led to higher construction costs at the time.
· Changing council requirements; new Local Environment Plans being gazetted, state or federal law changes and land being rezoned.
· Reliability and financial security of your contractors and builders, there is nothing worse than a builder going into liquidation half way through a development project.
· A change in the property cycle may see the end values and rents change during the development period.
· Weather and environmental issues holding up the construction progress.
· Unexpected costs e.g. hitting rock on site, in adequate provisional allowances and builder's contract exclusions or unfair terms.
· Disputes with builders and tradespeople leading to an extended construction period.
Using an experienced project manager for your first development will minimise some of these risks but it's still very important for all property developers to do as much due diligence on the location, property, council requirements and contractors/builders they will be relying on to ensure a successful property development.
What makes me sleep well at night is knowing we have amazing builders. We've used them for many years and they are happy to share their financial situation with us. They are flexible and good communicators and so we have built a strong relationship and trading terms with them.
This coupled with our experience in choosing relatively safe development sites and locations for our clients means nasty surprises are minimised and we have a very good idea of how the project will finish up. Our job is to de-risk a development as much as possible and to teach our clients along the way so that they can feel more confident embarking on their next property development.