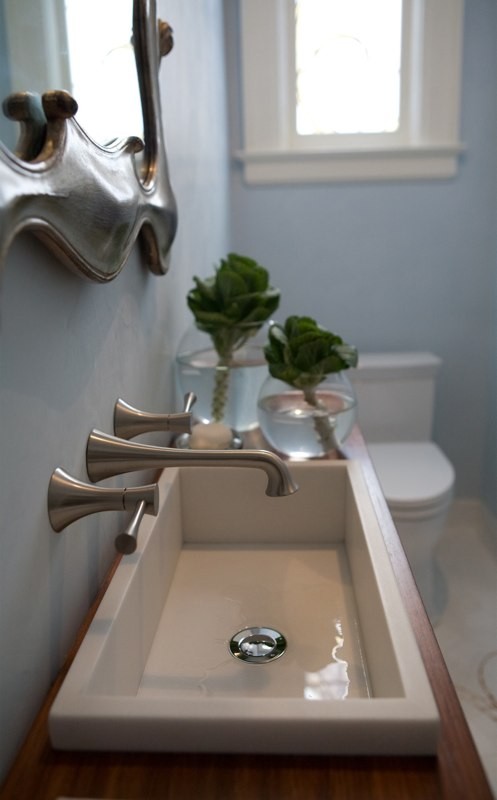 We were in the process of designing a three villa project for our wonderful client Tim and my brief to the builder and architect was to try and include double garages (DLUG) not just a single garage for each three bedroom villa if possible.
When the concept plan came back it did indeed have DLUGs but the villas did not have ensuites off the master bedrooms. However, they did have a separate 'powder room'. A powder room is a small bathroom that contains only a wash sink/vanity and a toilet. Sometimes, it's referred to as a guest bathroom or half bathroom, and it is usually located so that guests can use the facilities without having to go into the main bathroom.
Our optimum villa design includes three bedrooms, two bathrooms with a DLUG. But the land size for this project meant we couldn't have it all and we didn't want to sacrifice the size of the double living areas of the villas.
I had recently seen a villa for sale (not one of ours) that had to be reduced in price dramatically as the living space was just too small. It had been sacrificed so that there were two bathrooms and a DLUG.
My question to the agents was "What is more valuable; an ensuite or a double garage? (In lieu of a single garage)"
It was interesting to see two differing opinions. One agent thought the ensuite or second bathroom was more important than the extra space a DLUG would provide.
But more agents came back with recommendations to keep the DLUGs over the second bathrooms.
The reasons were interesting. It was mentioned several times by the agents that both owner occupiers and tenants love storage space. Sometimes, their most valuable asset is their car and they want a garage for the car plus space to store their things. Internal access from the garage to the house was also important particularly for downsizers or young families. There is nothing worse than lugging bags of groceries further than you have to on a wet day. Security was also mentioned, so remote access to the garage was important.
These villas would be kept and used as investment properties but our client Tim was also mindful of the end value and demand when he does decide to sell.
I had just read a really good article written by fellow Observer Mark Armstrong How the Single Story Villa Became a Highly Prized Investment. Mark talks of a 1970s villa selling above reserve in Hawthorn, Victoria. He described three target markets for this little two bedroom, one bathroom, single garage villa:
- Downsizers
- Investors
- Home owner investors – looking for a stepping stone property
This was exactly the same as our target market up in the Hunter Region. I clicked through to view the villa Mark was talking about and was interested to see the size and the amount it had sold for. It actually didn't have either an ensuite or DLUG but it was beautifully renovated.
http://www.propertyobserver.com.au/residential/how-the-single-storey-villa-unit-ugly-duckling-became-a-highly-prized-investment-mark-armstrong/2013081364170?utm_source=po&utm_medium=aida&utm_campaign=upperright
What I also needed to take into consideration was a recent experience where a valuer had valued two villas that were part of a dual occupancy project. They were very similar but one had a SLUG and one had a DLUG. The difference in the valuation was $30,000. The main reason was that in that particular market, the sales references for 3 bed, 2 bath SLUG villas were all mostly attached and formed part of a duplex. The valuer didn't seem to add back the value of freestanding villas.
So for this three villa project, I have looked closely at what had sold in this estate and what was in demand from tenants. In this area, there were more sales references for villas with DLUGs than for SLUG and bearing in mind our client's first intention was to maximise rental returns, we have chosen the DLUG over the ensuite. But we do still have the powder room which I think is a great compromise.